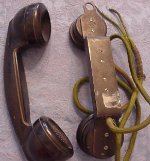 303rd-Talk is an email based mailing list forum for 303rd BG veterans, family of veterans, and others interested in the 303rd Bomb Group and the 8th Air Force in WWII.

The purpose of 303rd-Talk is to provide a forum for WWII veterans and friends to stay in contact with each other and discuss wartime experiences. All members are encouraged to relate their experiences and ask and answer questions. It is very important to have this transfer of information between generations to ensure that their efforts will never be forgotten. Our goal is to have a friendly forum where everyone feels welcome and comfortable.

303rd-TALK FORUM RULES:
Major topics of discussion must involve the 303rd Bomb Group, WWII, B-17s and other related topics. As long as the discussion does not get too far afield, the list will not be moderated. However, there are a few things that must be expressly avoided. Those include:
- the use of profanity
- personal attacks against other list members or segments of the population
- discussion of current politics and religion

Occasionally hot topics come up on which people have strong opinions. Please be considerate of other opinions. List members who violate the above rules will be put in a moderated status. Extreme rule violations will result in removal from the list. Be aware that what you post is automatically going to nearly two hundred people. If you want to talk about something personal with a list member, please email them directly.

303rd-Talk is being administered by Bill Jones, member of the 303rdBG.com Website Committee. If you have questions, please contact Bill at: wejones@megalink.net
To see the collection of prior postings to the list, visit the 303rd-Talk Archives.
Archives from our 2000-2004 Talk Forums are available here.
You must subscribe to 303rd-Talk to be able to post and receive messages.

To post a message to all the list members, send email to 303rd-talk@303rdBG.com.

You can subscribe to the list, or change your existing subscription, in the sections below.
Subscribe to 303rd-Talk by filling out the following form. You will be sent email requesting confirmation, to prevent others from gratuitously subscribing you. Once confirmation is received, your request will be held for approval by the list moderator. You will be notified of the moderator's decision by email. This is also a private list, which means that the list of members is not available to non-members.
Your email address:
Your name (optional):
You may enter a privacy password below. This provides only mild security, but should prevent others from messing with your subscription. Do not use a valuable password as it will occasionally be emailed back to you in cleartext.

If you choose not to enter a password, one will be automatically generated for you, and it will be sent to you once you've confirmed your subscription. You can always request a mail-back of your password when you edit your personal options.

Pick a password:
Reenter password to confirm:
Which language do you prefer to display your messages?
English (USA)
Would you like to receive list mail batched in a daily digest?
No Yes